Outdoor Cantilever Umbrella (SU4)
The SU4 is durable, high performance outdoor cantilever umbrella made from marine grade aluminium for longevity.
Browse the full details below and if you want to see it in action, watch our short video.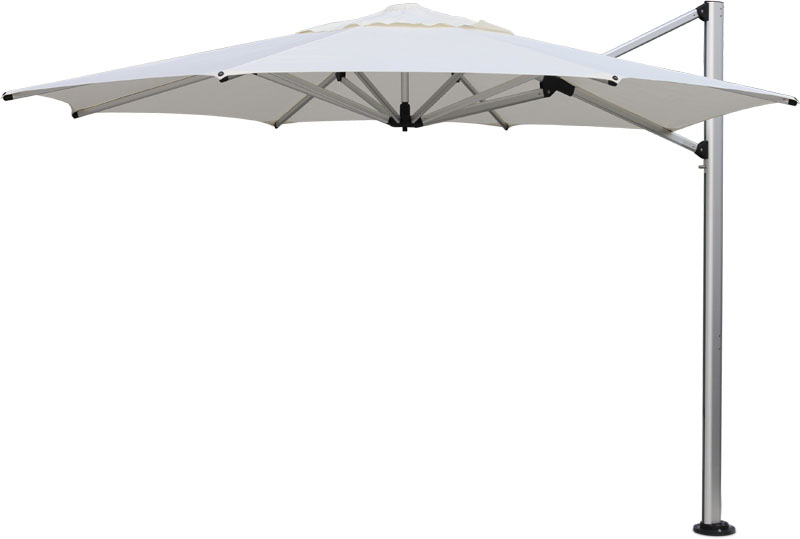 Unique Features – SU4
Key features of the SU4 cantilever shade umbrella include:
Marine grade aluminium frame and stainless steel hardware for longevity
Commercial grade 100% solution dyed polyester canopy (UPF 50+)
Durable high performance hub and fittings
Umbrella rotates 360 degress
Elegant and simple to operate tilt system
Custom designed protective cover included

---
Warranties – SU4 Outdoor Cantilever Umbrella
Are you concerned about quality?
Customer assurance and satisfaction is our No. 1 priority.
Every Sydney Shade Outdoor Cantilever Umbrella by Shadowspec comes with an extensive warranty for customer assurance purposes.
The SU4 Umbrella carries a Fabric warranty of 2 years* and a Frame warranty of 2 years*
Our Umbrella Range
Installation guides are provided with all umbrellas if you choose to have it installed yourself or we can install it for you.
These umbrellas need to be securely fastened in one of the following ways:
Bolted to a concrete slab that is at least 100mm thick. Any bolts or screws have to be at least 150mm away from the closest edge of the concrete.
Bolted to a timber deck. Access needs to be gained under the deck to secure extra timbers for added strength before bolting the base to the deck.
Into the ground. A footing must be dug approximately 500mm x 500mm & 700mm deep with a flare at the bottom. A separate in ground spigot is then concreted in & left to cure. The umbrella is then attached to the spigot.