Eclipse Cantilever umbrellas (also known as 'Side Post Umbrellas') have become increasingly popular in Australia over the last decade due to their revolutionary design placing the main support post off to the side, rather than in the middle. This may seem a minor innovation, but this one structural and design implementation single-handedly revolutionised umbrella design in Australia and opened up a hitherto unimagined variety of uses.
Cap Fencing now supply and install these versatile, beautiful and extremely sturdy outdoor swimming pool and garden shade accessories. Priced from $2595
Eclipse Cantilever Umbrellas Features
Tested under Australian conditions.
Stylish and elegant in design.
Amazingly resistant to strong winds.
Huge umbrella dimensions allow for maximum shade.
An exceptionally sturdy heavy duty design which weighs approximately 45 kilograms, creating exceptional strength and wind resistance.
Versatile side mount design allows for use in a variety of conditions from gardens to pools, to high decks.
Extremely easy to use.
Unique intergrated rotational lock and handle.
2 year warranty on frame and mechanics; 5 year warranty on canvas.
Eclipse Cantilever Umbrella Colour Options
Eclipse Cantilever Umbrella Infographic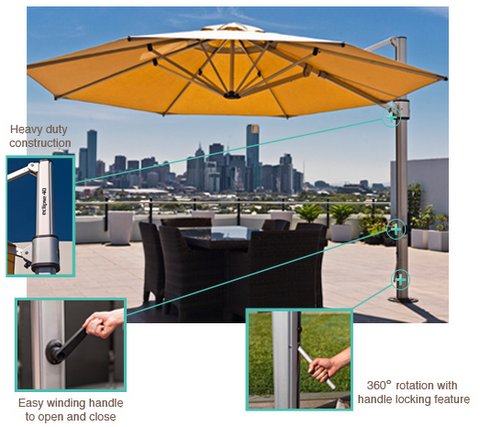 Eclipse Cantilever Umbrella Accessories
Protective Cover
Stabiliser Bars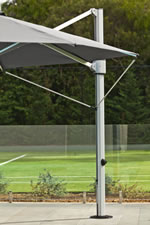 Eclipse Cantilever Umbrella
Installation Information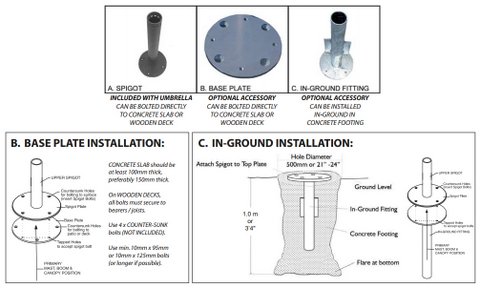 Eclipse Cantilever Umbrella Instructional Video
Eclipse Cantilever Umbrella Wind Tunnel Test
Our Umbrella Range
Installation guides are provided with all umbrellas if you choose to have it installed yourself or we can install it for you.
These umbrellas need to be securely fastened in one of the following ways:
Bolted to a concrete slab that is at least 100mm thick. Any bolts or screws have to be at least 150mm away from the closest edge of the concrete.
Bolted to a timber deck. Access needs to be gained under the deck to secure extra timbers for added strength before bolting the base to the deck.
Into the ground. A footing must be dug approximately 500mm x 500mm & 700mm deep with a flare at the bottom. A separate in ground spigot is then concreted in & left to cure. The umbrella is then attached to the spigot.